You Are Visitor Number:

Counter provided by Andale.


My Hobby
Radio Control Model Airplane Flight
Well, I'll try to give you a brief recount of my R/C Flying Models Hobby.
I am Bert and hail from the Tropical Shores of Cuba where I was first introduced to Aero Modeling back in 1959 when at the tender age of 14 our Maternal Grandfather gave my brother and I both, Cox Control Line Models. My brother was 13 at the time.
A little blurb about our Maternal Grandfather is in order here since he played such an influential role in our formative years.
Porfirio Cardenas Rodriguez was a straight laced, no nonsense ultra conservative. A man who never smoked or indulged in alcoholic beverages a single day of his life, and though he spoiled his grandchildren rotten everytime he could afford to do so he always called an ace and ace, a spade a spade and then let the chips fall where they may. Abuelo, may GOD in His Infinite Mercy have you residing in His Kingdom, if anyone is deserving of such honor you are the one. You are still sorely missed even though you departed December 17th of 1967. The beautiful example you set for us all back throughout your entire life will endure forever as we impart your priceless legacy about Family and Moral Values, Decency, Honesty and Loyalty to current as well as future family generations. This page is dedicated to you.
The models Abuelo (meaning Grandpa) gave us were plastic planes, mine being a PT-19 and my brother's a German Stuka. They were powered by the ubiquitous Cox .049 spring start Glow Engine.
Once hooked by the smell of castor oil and methanol there was no going back. From there I continued on to larger, more powerful Control Line models until the spring of 1968 when a friend of mine took me to a 'remote control' demonstration in College Park, MD. The sight of that 36" wingspan Minnie Mambo controlled by a Galloping Ghost single channel system was enough to get me hooked on R/C for good. There was no return, I had to have one of them, period.
My Minnie Mambo was equipped with a Galloping Ghost Radio and powered by Cox .049 engine. After that Mambo, came a similarly equipped and powered Goldberg Junior Falcon. Next in line was a Junior Skylark with an O.S. Max .10 R/C engine at the nose and an O.S. Max "PIXIE" Single Channel Blue Box Push Button Radio. A Falcon 56, a Skylane 62, Skylark 56 and a variety of Lanier ARF models followed them, in addition to a 9' wingspan Bud Nosen J-3, a 9' Giant Stick by the same company, and a J & J Industries Troublemaker Pattern Plane designed by Tony Bonetti & powered by a .61 Webra Black Head engine. The J-3 was powered by a Kraft .60 direct drive swinging a 12X6 propeller, while the Stick was Quadra driven. Yep! I was flying Quarter Scale models when Quarter Scale was in its infancy. Radios were Futaba, three Kraft Series 70 through 73 and an O.S. Max Single Stick five channel unit.
I joined DC/RC in '70 and flew from their Columbia, MD field. Shortly after that I also joined PGRC and Charles County Radio Controllers, so I had quite a bit of latitude in my choice of flying sites. Although I mainly flew from the PGRC Site off Rt. 301 next to Second Genesis in Bowie, MD after the Club had two intersecting paved runways constructed in the '70s. I met Bill Hinnant, Joe Solko, Paul Niner, John Connors and quite a few other nice chaps there also. I used the Charles County R/C grass site quite often too. I flew amphibians from a Lake located near Bowie on Rt. 50, quite a thrilling experience to say the least. If you have never tried, do it ASAP, you'll love it!
When DC/RC acquired the site in Rockville, MD, it made it more convenient for me to fly from there as it was a rather nice field and much closer to home. The field was moved a bit, then the runways were paved, Sanitary facilities were installed, we had running water, electricity and a beautiful Gazebo to shelter us from the elements. Some of the fellows I met there are/were Harry Lewis (Captain Crunch), Fred Diehl, Jerry Gott, Lou Goldberg, Harry Varvounis, Sam & Andy Kane, Andy Finizio, Doug Harper, Harry Grattan, Bill Savage and quite a few other nice guys. That site became my flying place of choice until I stopped flying altogether in '83 when rumors of the possibility of loosing it began to circulate.
The field was lost due to a noise complaint by a dentist living nearby, a dentist whom I may point out, was politically speaking, very well connected to Ida Mae Garrott. She was instrumental in closing the site for good in '85, and although she admitted much later on that it had been a mistake to do so, the irreversible damage was already done. One other influential event in my getting away from R/C at that time was when my Giant Stick bit the dust near the runway; it was a Total Loss. An 'expert' fellow modeler who was at the controls of the plane when it crashed caused this awful event. Although devastated by the loss, I decided right then and there that no one else but me would get their hands on any of my models with the intentions of flying them. The Nosen J-3 was sold shortly after that incident.
That Rockville site remained sealed until, through the auspices of Roy Smith, was re opened to Electric and Sailplane flight in '95. I had two heart attacks in August of '96 and my Cardiologist suggested that I look into getting a hobby for therapeutic reasons, I told him I used to fly R/C models and he said to go for it. It took me two years to get back into it. In '98, I was made aware the Gude Field had re opened to Electric Powered models and being located 5 miles from the house I went back at it again, only this time as an electric model airplane flyer.
I may point out that the condition of the former paved runways there is rather poor, though they are still usable. Two very dedicated C.A.S.A. Club members immaculately keep the grounds. They operate the lawn tractor faithfully every other week maintaining the grassy area in tiptop shape. That grassy area can be used for sailplane and or electric plane landings.
Earlier this year (2001) I joined Freestate Aeromodelers in Laurel, MD as I felt the urge to fly more powerful models and also wanted to extend my airborne time a bit longer. Needless to say, it was the wisest move I have ever made. This Field is absolutely marvelous, wide open with a very well maintained grass runway, pit and parking areas.
I may add that I have re joined the ranks of DC/RC also. The DC/RC site is located in Germantown, MD, and has a beautiful 750' paved runway. The early morning crowd there on Mondays, Wednesdays and Fridays is absolutely wonderful. I enjoy going there, fly a little and chew the fat a lot. We call ourselves the 'Old Farts Crowd' (in jest of course), since we mostly fly slow trainer type aircraft and spend most of the time talking. I would describe the experience as very enjoyable and relaxing. Meeting that group there when I get the chance to escape in that direction is just what the doctor ordered for my cardiac condition. A couple other members in our group suffer from cardiac problems also.
Since I've kept most of my favorite original models, that is what I fly at the moment. I like models that look and fly like real aircraft. I love to fool myself into believing that I am inside the machine when it's airborne.
Below you will find photos of some of the models I am currently flying. Of these, my favorite is the Astro Hog. I believe it has a lot of class & character. Even though it was designed by Fred Dunn in '57 and built from a Berkeley kit back in 1959, its classic lines are timeless. The Hog is a plane for All Seasons. Cheers! Captions are provided under each photo. I do thank you from the bottom of my heart for having stopped by and hope you come back again soon as I expect to add a few more photos and links to other sites later on.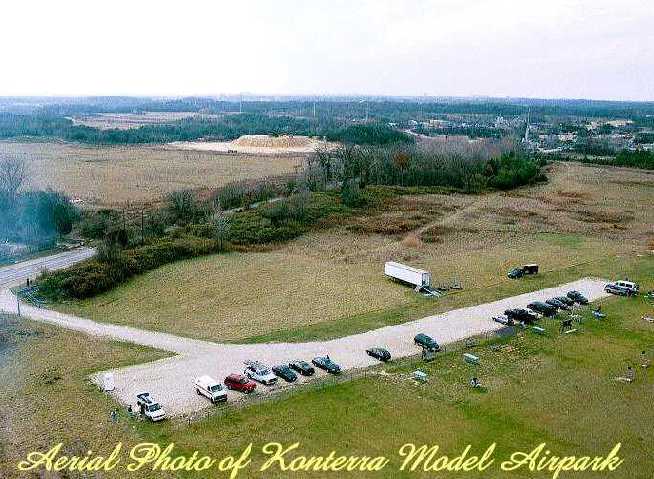 Aerial view of our Flying Field located on Van Dusen Road in Laurel, MD
---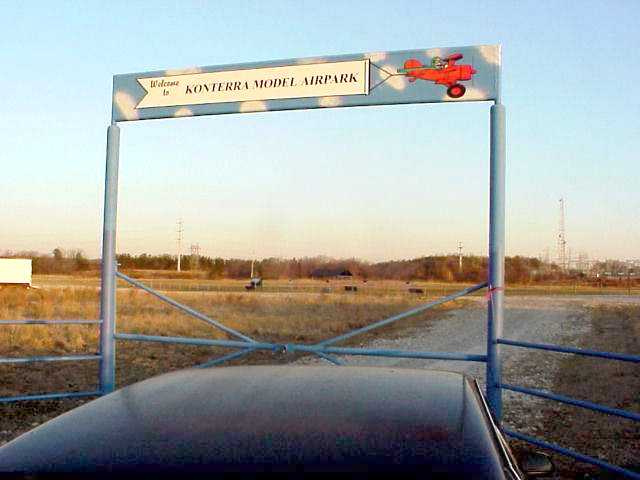 Gate at the entrance to our Flying Field
---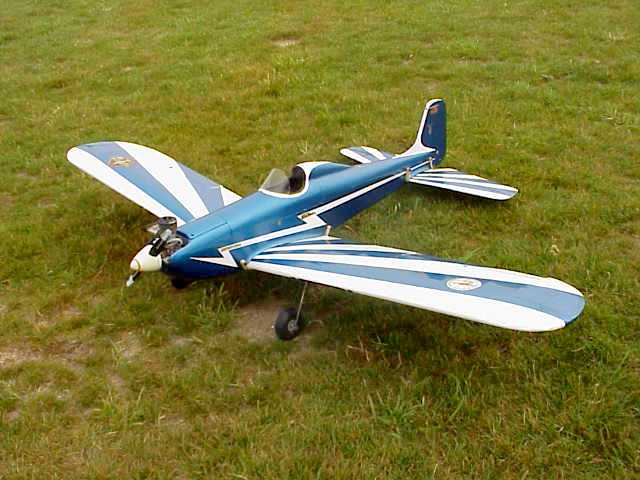 A venerable Oldie, an original Berkeley Astro Hog built by the late Jim Conlan in the Winter of 1959, and in my care since 1971 when I purchased it from him. She just turned 41 this year, making it the oldest flying model at our Club. A majestic sight while in flight, its character is Genuine Vintage Model R/C all the way. This original Berkeley's Astro Hog flies as good today as Fred Dunn's original prototype did when it took off on its maiden flight back in '57!
---

Close up view of the Astro
---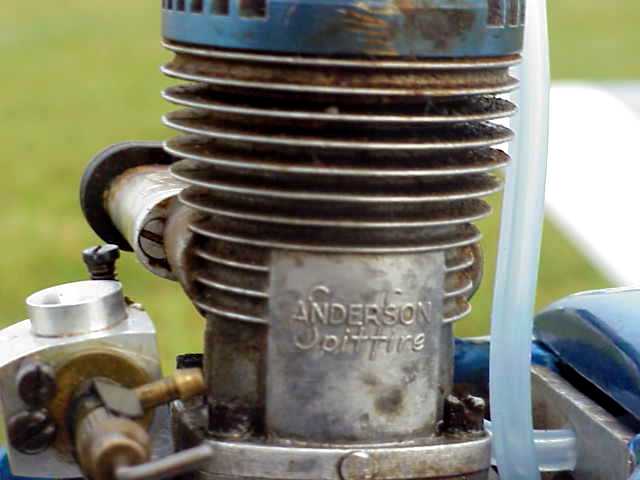 The Astro's Power Plant, a Series 6100 Anderson Spitfire engine just as old as the model itself. The Anderson Spitfire is fitted with a KAVAN Carburetor and a Dubro 'Muffle-Aire' Silencer. Both these items are vintage pieces, though not as old as the Spitfire
---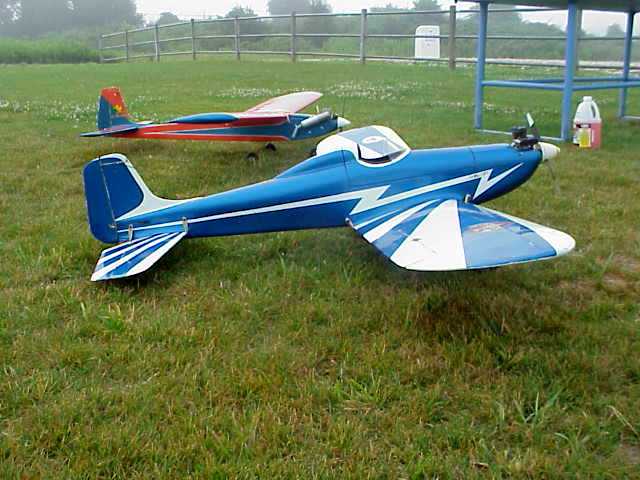 The Astro in the company of a Carl Goldberg Models Sr. Falcon
---

Isn't she a Lovely Thing to look at? It was built in the mid to late '60s, having acquired it from a fellow Freestate member, she now is an integral member of my 'Oldies Flying Stable' and along with the Hog, one of my All Time Favorites. Needless to say, she is a Great Flyer too!
---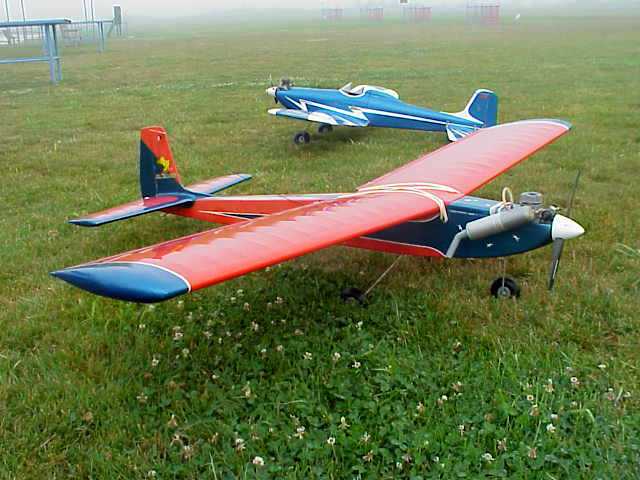 Another view of this Goldberg all time Classic. The Astro standing guard in the background
---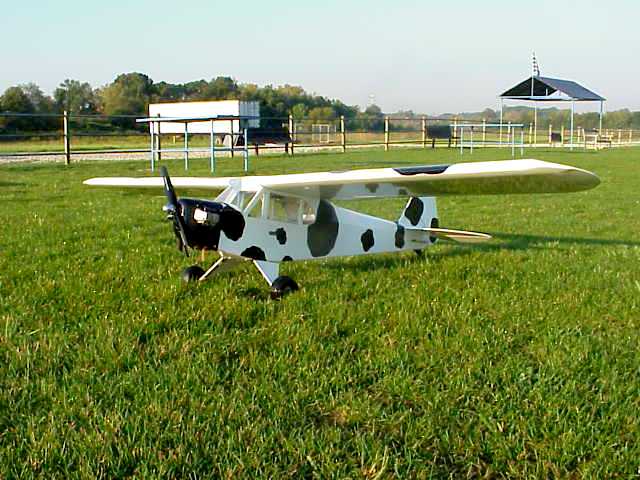 My Anniversary Edition Goldberg J-3 sporting the Gateway Computer Box look
---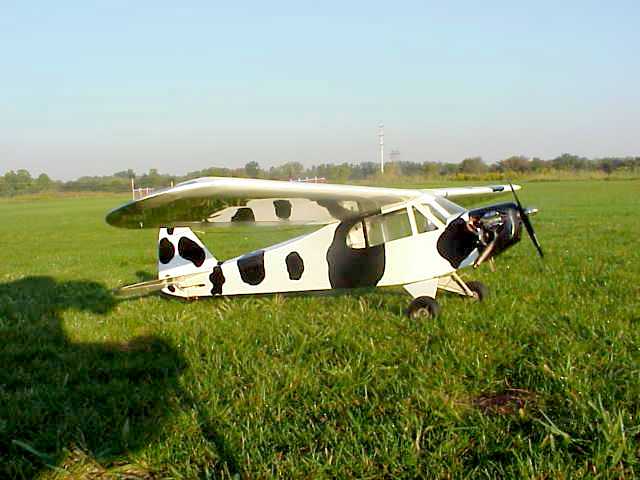 Side view of the J-3 showing off its SAITO .56 Four Stroker Engine
---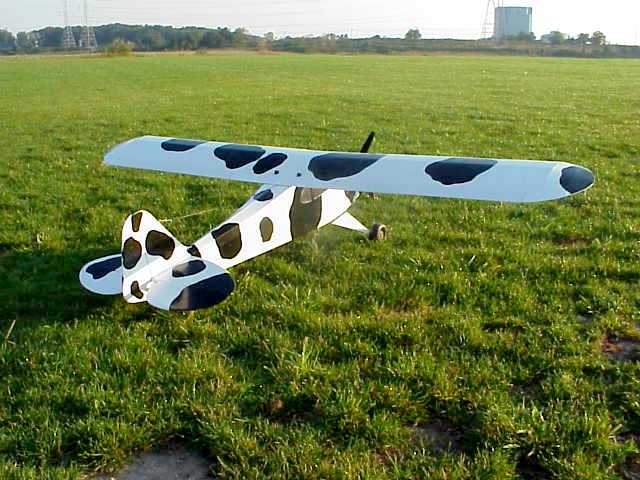 The J-3 Flying Cow as viewed from the back
---

A Miss 2 by Scorpio Models from Italy, a Geared Speed 400 Electric Motor Powered model. A great flying machine.
---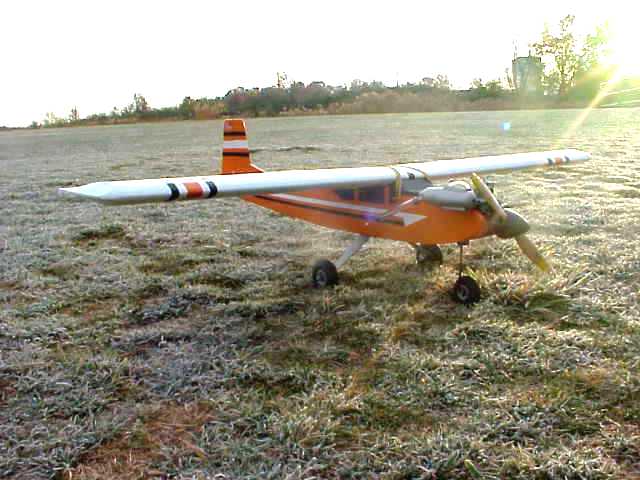 Classic design by Joe Bridi, the T-20 was the smallest in his line of Advanced High Wing Aerobatic Trainers
---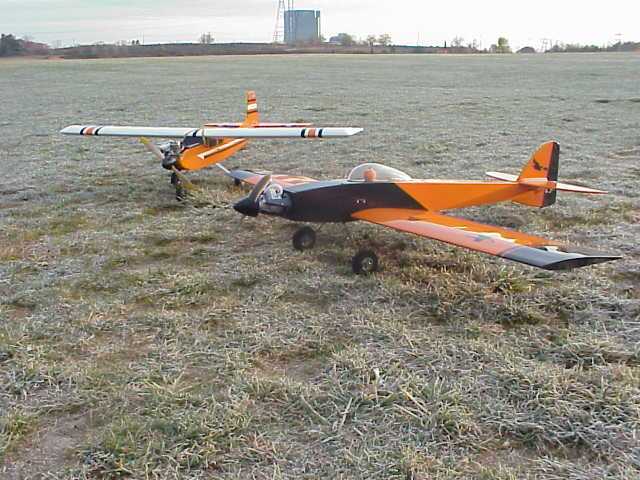 A Quickie 500 Class Pylon Racer, this Gyro is powered by an O.S. 40 Engine, the T-20 is visible in the background
---

Latest addition to my Oldies Flying Stable. This 66" Wingspan 'Wimpy' is powered by an old K&B .40
---

Wimpy's view from the rear. A charming looking and very relaxing flying machine. Thinking of adding orange to its wing tips
---

Well, here we are Wimpy and I at the FSA Flying Field. She's wearing orange on her wingtips
Head Wimpy into the wind, throttle her up and she takes off to Soar like a homesick Angel. Quite a model
---

A Hobbico Superstar 40 presented to me by my good friend Al Anderson
---


Click Here to E-Mail Me
FREESTATE AEROMODELERS HOME PAGE
CASA HOME PAGE (Capital Area Soaring Association)
* * * * * * * * * * * * * * * * * * * * * * * * * * * * * *
---
Background and Gifs on this page are the sole property of Bert P. Matos
The FSA® Logo and Club name are Registered Trademarks of Freestate Aeromodelers®
Unauthorized use of all or any part of the above by others without written permission is strictly forbidden